🌟 Join Us in a Transformational Workshop with Guest Speakers and Guides! 🌟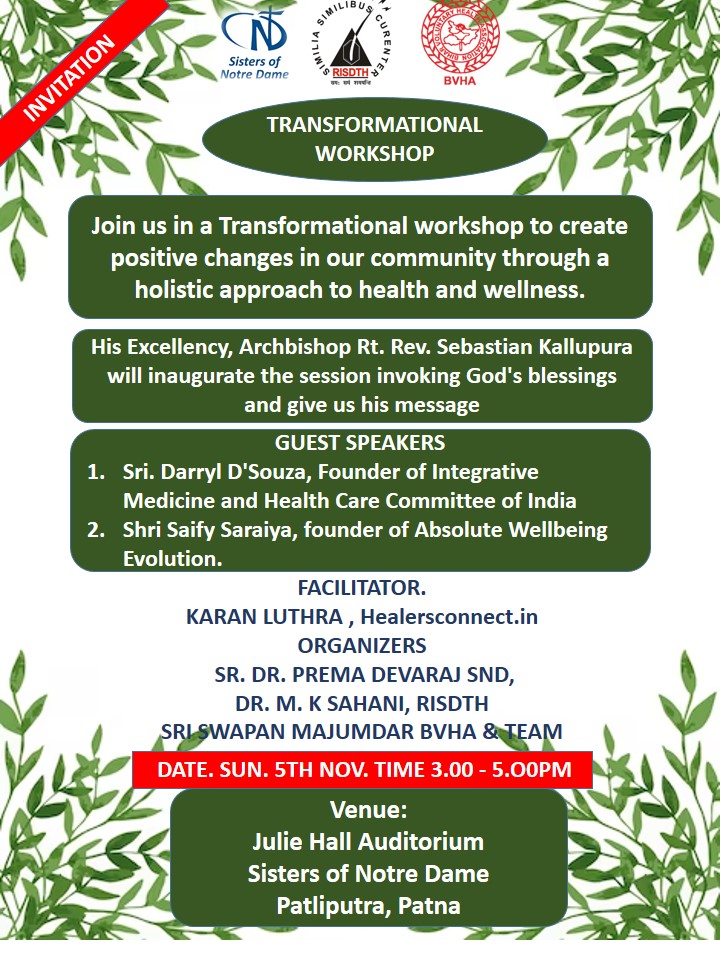 Dear Heartful People of Patna
We are living in a time of great change, and our beautiful city and its surrounding areas are not immune to the challenges of the health crisis. With rising cases, our hospitals are overburdened, and we've experienced the sudden loss of our loved ones.
But here's the inspiring part: You have the power to be a part of the solution!
We invite you to a workshop that's all about creating positive change in our community. We will explore a holistic approach to health and wellness, and together, we can establish an Integrative Natural Medicine Center in Mokameh, Bind Toli, Sasaram, Piro, and beyond.
In Sasaram Rohtas District, Piro Bhojpur District, and Bind Toli Patna, we are initiating the program this week.
Nazareth Hospital, Mokameh, is interested in opening the Integrative natural medicine center.
Imagine a healthier, happier Patna and its surrounding areas with more accessible and effective healthcare solutions. Many volunteers in their areas are ready to serve as examples of what we can achieve together.
Guest Speakers and Guides:
🌿 Darryl D'Souza: Founder of the Integrative Medicine and healthcare Committee of India
Darryl will share his model and provide insights into the realities of current health policies. Learn more about his work at integrativemedicinecommittee.org.
🌿 Saify Saraiya: Founder of Absolute Wellbeing Evolution
Saify will be our workshop facilitator, sharing his wisdom to help us decentralize health and wellbeing in our community. Learn more about his work at healersconnect.in/saify.
In this workshop, we will form many teams, and we need dedicated individuals like you who resonate with this idea and are willing to play an active role in making this dream a reality.
Let's transform our community, one step at a time. Join us for this inspiring workshop and be a part of the change we want to see in Patna, Mokameh, Bind Toli, Kuji, Sasaram, Piro, and beyond.
Date: 5th November 2023
Time: 3:00 PM – 5:30 PM
Venue: Sisters of Notre Dame, Patliputra, Patna
Let's bring health and well-being back to the heart of our communities! ✨
To join our Facilitator community, visit healersconnect.in/join-community.
Together, we can make a difference! 🌿🌍🌞
Dr. Prema Devraj
Movement Managed by Healers connect community platform.

https://healersconnect.in/join-community/
See you there..!
REGISTER YOURSELF HERE
https://docs.google.com/forms/d/e/1FAIpQLSdAaG9sZH0vdn7F1dW9TolpozMgzipLd_iSgaWoXiTNQzHXdQ/viewform?usp=sf_link